Version française / Version en español
The NAP Global Network's activities are demand-driven and we strive to respond flexibly to support participants in addressing emerging NAP-related challenges and opportunities.
Through our Country Support Hub, Network participants in developing countries can request free expert advice and/or short-term, targeted in-country technical support on specific issues that will help them to maintain momentum in their NAP process or its implementation.

To submit a request, download and complete the request form. Please send the completed form to info@napglobalnetwork.org.
The Network Secretariat will review your request and acknowledge receipt within three business days, including an estimated timeline for providing a full response to your request and a description of the type of support that we can offer.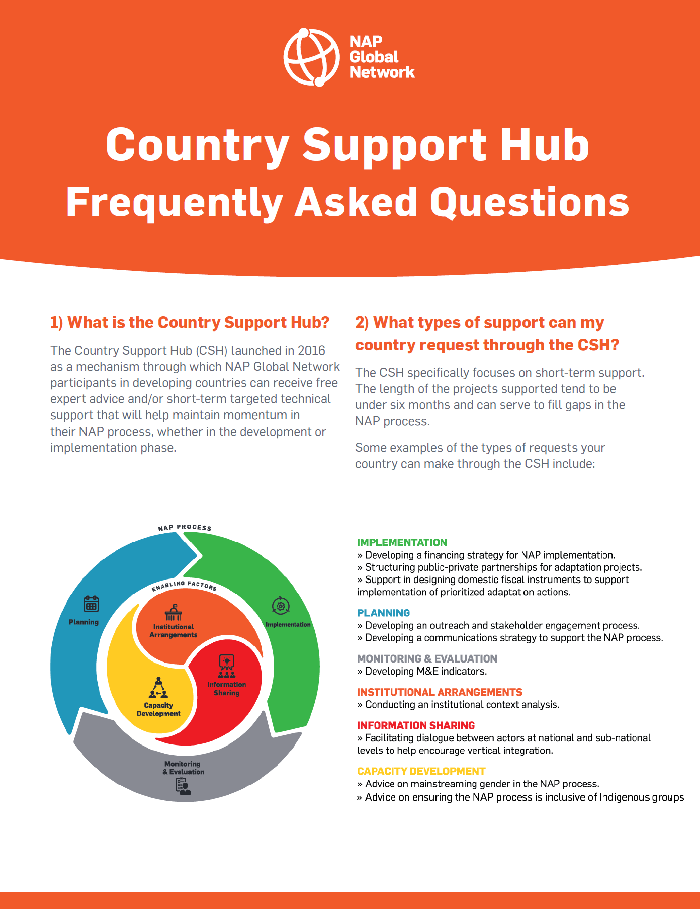 What type of support can the Network offer? Who can make a request? How many requests can a country make? How long does it take for a request to be processed?
For answers to these and other questions, please read our Frequently Asked Questions, watch our video above, or explore our graphic below.
What types of support can my country request?
Click on the below graphic to see some examples of the types of requests we can respond to through the Country Support Hub.
Planning
Developing an outreach and stakeholder engagement process.
Developing a communications strategy to support the NAP process.
Implementation
Developing a financing strategy for NAP implementation.
Structuring public-private partnerships for adaptation projects.
Support in designing domestic fiscal instruments to support implementation of prioritized adaptation actions.
Monitoring & Evaluation
Developing M&E indicators.
Institutional Arrangements
Conducting an institutional context analysis.
Information Sharing
Facilitating dialogue between actors at national and sub-national levels to help encourage vertical integration.
Capacity Development
Advice on mainstreaming gender in the NAP process.
Advice on ensuring the NAP process is inclusive of indigenous groups.