OUR PROGRAM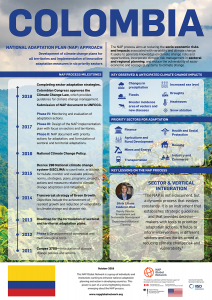 The NAP Global Network has been working with the National Planning Department and the Ministry of Environment and Sustainable Development in Colombia since 2017 to support the implementation and monitoring of the country's NAP processes.
We are helping customize adaptation plans to ensure sustainability at a subnational and sectoral level, communicate NAP processes to the public, and implement monitoring and evaluation (M&E) systems to track the progress of these plans. 
Our focus is currently on the development of an Early Warning System (EWS) pilot program: a planning and response tool for household water supplies and sewage systems.
MILESTONES
---
2019
Comprehensive Sectorial Climate Change Management Plans (PIGCCS in Spanish): Support for the ministries of water and health.

Health sector roundtables: Medium and long-term goals developed and indicators for an efficient M&E system identified.
Water sector: Database created, costs of adaptation measures identified and M&E system developed.

Industry and housing sectors: Sectoral adaptation plan and M&E system developed.
National Communications Strategy: Engaged the general public, government officials and stakeholders in the country's NAP process.
Financing strategy developed.
2018
NAP document submitted to UNFCCC.
Sector adaptation strategies completed.
2017
NAP Assembly 2017: Planning the implementation of NAP processes at the national and regional levels.